Don't Forget to Look is almost 3 years old now and we feel like it's time for a refresh!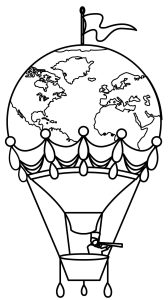 The current logo has its background in a tattoo that owner and founder Stuart, has on his side (in black and white, not with all the colours!)
The image, based loosely on Phileas Fogg's 'Around the World in 80 Days' hot air balloon, was the launch-pad and feeling behind 'Don't Forget to Look,' simultaneously a new adventure for Stu, and a call to action for clients to keep their eyes on the prize, stay curious, and keep evolving.
We look forward to sharing the new Identity in the next couple of months.
We'll be sticking with the balloon. The message is still the same, but the execution across logo, website, materials and so-on, will take a big step forward